Mix and thaw your products
Because a good dosage requires good preparation of the product, Poly dispensing Systems offers the most complete range of Thinky planetary blends.
Thinky, Japanese manufacturer, is the first company to have designed and manufactured planetary mixers for industry.
It all started over 25 years ago when thinky's director technically responded to a mixing of dental pasta with the first born of planetary mixers, a Thinky.
With this success, Thinky decided to create a whole range of planetary blenders to respond to the mixing problems of all industries: aeronautics, automotive, medical, electronics, building …
Very used in the field of adhesives, particularly for the bi – component collars
Dotés of a single technology of rotating and centrifugal forces, Thinky mixers are designed to give any mixture a uniform and uniform aspect.The same way the Earth is gravitated around the sun, the container moves by making a revolution around a central axis and turns on itself at 45 degrees.
The addition of these two movements allows a perfectly Degassed and homogeneous mixture to be obtained. Thinky is the only manufacturer who has a patent on his defoaming principle.
Infinitely, Thinky has equipped some vacuum pumps which allow to defuse even more substances.

Mix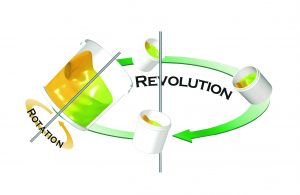 The rotation/revolution principle:
This is a universe in which two powerful centrifugal forces are harmoniously orbiting and also turning on themselves. The desaeration phenomenon guarantees a result without bubbles.